About Ensemble
A unique and exciting opportunity for young people aged 16-25.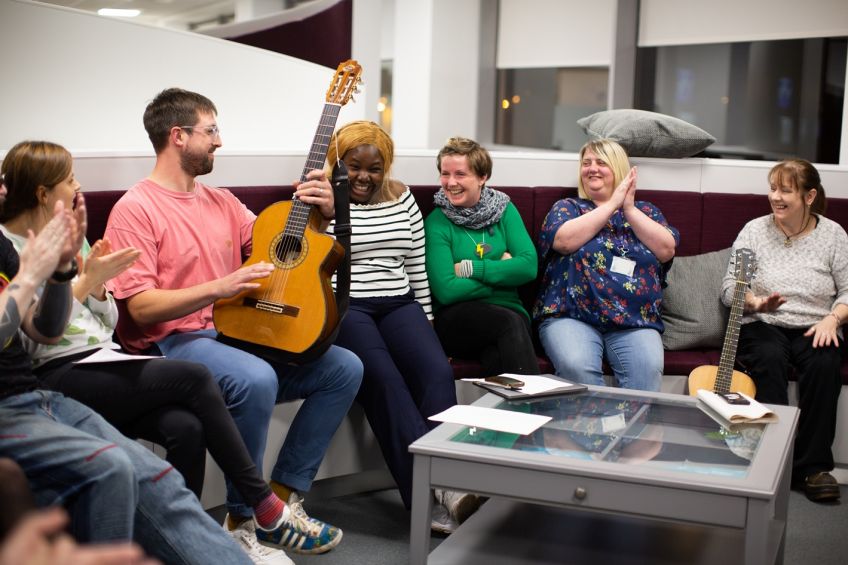 Ensemble is about creating music to transform lives.
In partnership with Creative Scotland's 'Youth Music Initiative', the award-winning project empowers young people who would not normally have the chance to take part in music-making, to create new, original music.
The project was developed and designed in consultation with young people receiving support at Wheatley Care, part of Wheatley Group.
Ensemble has a track record of transforming the lives of young people through song-writing, recording and live performance with support from professional musicians.
No previous musical experience or ability is required, and there's no expectation of anyone to perform, sing or play instruments when they do take part. That's what the professional musicians are there for.
In 2021 we are excited to engage with young people online via live-streamed song-writing sessions and workshops. At the end of the process, participants will have a recording of their new, original song.
See below what young people who have previously been involved in Ensemble have to say about the project:
"I feel like I belong"
"It feels like people are getting to know me and what I've actually been through now… because I can put it in a song, people really listen to it. I feel I can do anything now"
"I feel I have a voice and people understand me now"
"It's been like a new kind of adventure for me... given me a new kind of confidence, moving it to another level… it has connected me"
"I'm more confident/. I talk to more people than I used to. It's given me patience and an exuberant amount of tolerance."
---
Ensemble supports young people to transfer the skills and confidence gained to the rest of their lives, linking young people into volunteering opportunities, further music lessons, college courses and other music projects.
If you know a young person who might benefit from taking part in this unique and life-changing opportunity, or would like to know more, please contact the Ensemble Team at ensemble@wheatley-care.com
This opportunity will be prioritised for young customers aged 16-25 living in Wheatley Group communities, including housing, care and property management services.