Volunteer with us
Are you interested in becoming a volunteer with the life-changing Ensemble?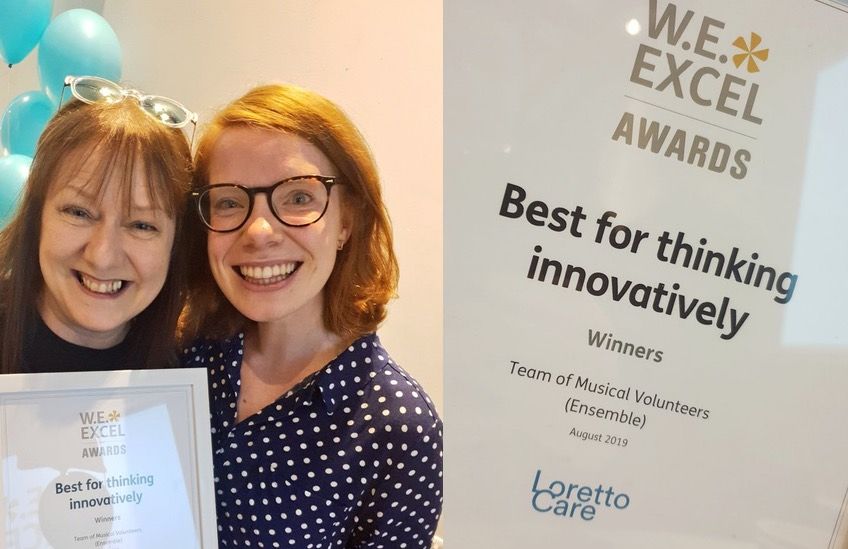 Get in touch today with Ensemble Coordinator Donna Maciocia on email at donna.maciocia@wheatley-care.com or call 07760 637 526
Our volunteers have been vital to the project's success and in 2019 won the Wheatley Group W.E. Excel staff award for 'Thinking Innovatively'.
Here is some feedback from our volunteers who completed a survey in 2019:
"I feel very valued. All the musicians and volunteers are always very supportive and encouraging to be around"
"Being part of this made me feel excited about music again. Ensemble is the reason I love making and playing music and it makes me insanely happy to see how it changes the participants' life"
"I've really loved being part of weekly music writing sessions. Learning the song writing process. Hearing the songs that, had it not been for Ensemble, would never have been written. It's really quite humbling…I'm proud I added something other people's life just by being me"
"It was well organised and very inspiring for everyone. You couldn't tell who were the participants and who were the volunteers - and that gave a great inclusive and community feel"
"I've felt very valued, supported, encouraged, more adequate and helpful than I ever thought I would have been. It has always felt like a team effort from everyone involved. Week to week I've seen everyone's confidence grow - mine included"
"I still wouldn't consider myself a song writer of any sort, but it's definitely deepened my understanding of songwriting. I'm in awe of the process and loved the honesty, vulnerability and stories I heard through the songs. There were lots of really special moments. Music can change someones life more than anything else. All of the participants are so, so talented and just believing in them and listening to them is all they need to thrive"