Ensemble release debut album
The first album from award-winning music collective Ensemble, set up to support young people, is released today.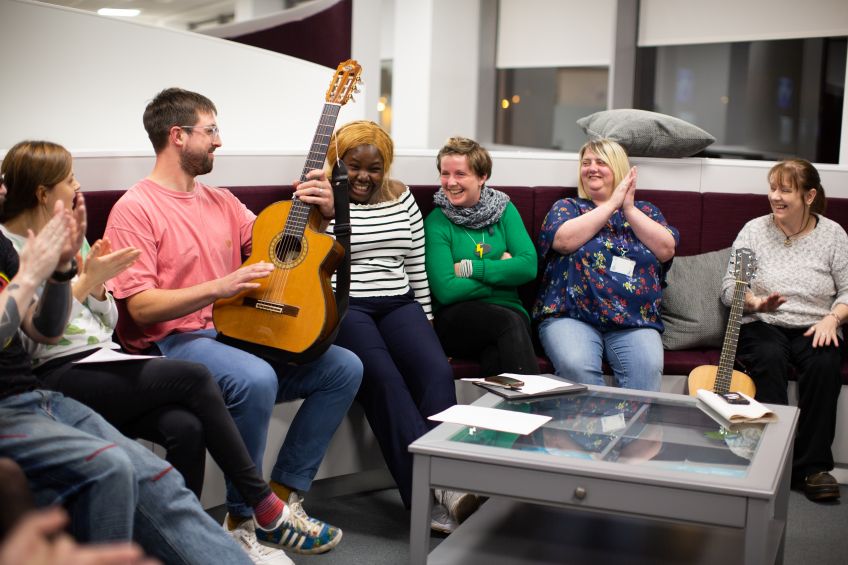 Photo by Beth Chalmers - taken pre-covid.
No Place Like It, by Ensemble, brings together an eclectic range of songs written by young people with the help of some of Scotland's foremost musical talents.
The project is run by Wheatley Care, part of Wheatley Group, Scotland's leading housing, property management and care organisation. It is funded by the Scottish Government through Creative Scotland's Youth Music Initiative (YMI).
It sees young people, many with experience of homelessness and mental health issues, team up with professional musicians to write and record original music about their experiences.
The album, which is themed around home and community, was recorded in Chem 19 Studios, in Blantyre, with the young people following in the footsteps of legendary Scottish musicians Calvin Harris, Franz Ferdinand and Deacon Blue, who have also recorded in the same studio.
It comes hot on the heels of their third single, 'Now What', by Mawaddah, in collaboration with Ensemble Co-ordinator Donna Maciocia and producer Jonnie Common. It is about Mawaddah's journey to Scotland and is inspired by Billie Eilish.
Mawaddah said: "Ensemble made me feel part of something, part of a community, and I felt welcomed. It really helped the whole period of me settling into a new place."
The album also features 'Nightlight' by Steph McCrystal and tells the story of her close relationship with her brother. She wrote it with musicians Jill O'Sullivan and her support worker at the time Tony McNamee.
Steph said: "When I wrote the song, I was in a homeless unit, my life was all over the place, and I was diagnosed with anxiety, so everything was very overwhelming."
"Being able to write this song for my brother was really special to me. He deals with a lot, so if he ever needs me, no matter where I am or what time it is, he can listen to it and not be alone."
It also features 'Battlefield' by Andrew Sinclair with the help of professional musicians Goodnight Louisa (Louise McCraw) and Jamie Scott.
The song is about his experience of joining Ensemble at a time when he was experiencing homelessness. He has since moved onto his own home. It is a song about having the courage to do something outside of his comfort zone and then finally finding a place he felt he belonged and could be himself.
Inspired by being involved in Ensemble, he has gone on to college to study sound production and also has his sight set on becoming a social worker.
Andrew, 23, said: "Ensemble made me realise I do care and like helping people. Even if I can't resolve an issue, I can at least try to help someone. It's made me feel that I'd actually love to be a social worker.
Ensemble started life in 2016, with different young people and musicians taking part each year.
The coronavirus pandemic saw the project shift online, with Zoom songwriting and recording sessions.
Wheatley Care's Ensemble co-ordinator Donna Maciocia said: "Ensemble has created a powerful sense of belonging and community and it is making a profound difference to people's lives.
'When songs and stories are shared in a safe and supportive space like we have managed to create, it is incredibly powerful. People feel heard – often for the first time – and feel that they finally belong somewhere."
Listen and buy the album at https://ensemblesongwriting.bandcamp.com/album/no-place-like-it
Friday, April 30, 2021