Love blossoms for young pair thanks to Wheatley Group Modern Apprenticeship
A young couple gained more than a job when they fell in love and got married after meeting on a Modern Apprenticeship programme.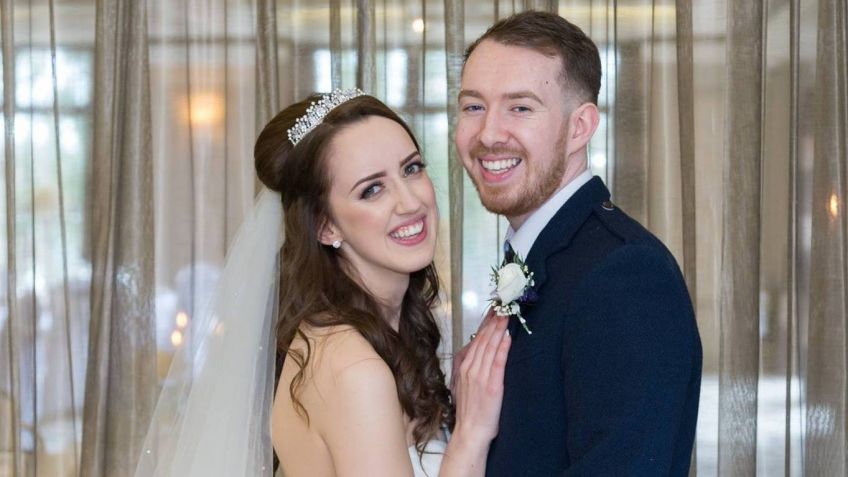 Ashleigh and Chris Bilsland went to the same school – but only started to speak to each other when they found themselves on the same Modern Apprenticeship programme at Scotland's leading housing, property and care organisation, Wheatley Group.
The organisation has taken on more than 300 apprentices since they launched their award-winning programme in 2009 – but Chris and Ashleigh soon realised they only had eyes for each other.
The pair, who are both 24 and live in Cambuslang, joined Wheatley on the programme in 2012, and romance blossomed a year later when they were both chosen to represent GHA at a Modern Apprentice award ceremony. They got married last year after Chris proposed during a trip to New York.
Ashleigh said: "We both applied for the apprenticeship as we both had friends who already worked for the business, and they told us about the opportunities and skills that an apprenticeship with Wheatley could offer.
"I was at a stage in my life when I didn't really know what I wanted to do. I had been to college and studied travel previously. An apprenticeship at Wheatley gave me a great opportunity for working, learning and earning – and I met my soul mate as well.
Chris started working in the environmental team at first, but was offered an apprenticeship in business administration, before working in a local housing office, while Ashleigh joined the team that help homeless people find safe, secure accommodation.
They both now work in the Customer Service Centre, where they help provide round the clock help and advice to Wheatley's 250,000 customers across Scotland.
The pair will also take a year's sabbatical together and they plan to travel the world together.
Ashleigh added: "We are super grateful for the opportunity that the Wheatley Group have given us. We love working for Wheatley Group and we hope to go further within the business when we come back from our travels.
"We would recommend the apprenticeship to anyone – it is a great opportunity to grow your skills, and get a great start in your career."
Wheatley Foundation Director Lorraine McLaren said: "While we can't promise that everyone who joins us on a Modern Apprenticeship will find love, we can definitely offer a great opportunity to young people who want to take their first steps on the career ladder.
"We are now recruiting for around 50 Modern Apprentices in a range of roles from environmental work to business support, including legal, communications finance and across Wheatley Group subsidiary organisations. You'll get the chance to earn a real wage, get help with travel expenses and even a discount on driving lessons. You don't need any formal qualifications to apply so if you are interested, we would love to hear from you."
Young people can apply to the Modern Apprenticeship scheme by visiting www.wheatley-group.com, or emailing their details to ma@wheatley-group.com by March 30 2018.
Wednesday, February 14, 2018