Wheatley provides extra peace of mind to older tenants during pandemic
Older tenants are getting extra security and peace of mind in their homes during the coronavirus crisis.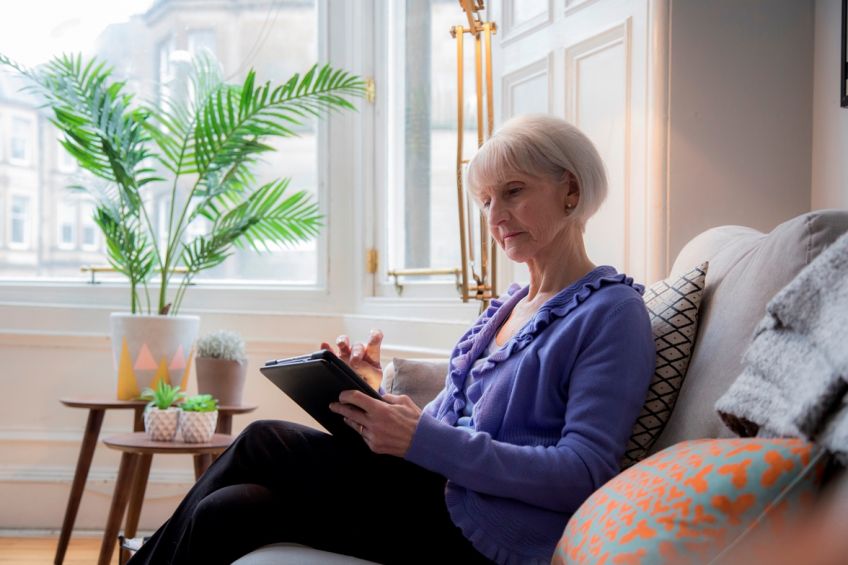 Wheatley, Scotland's leading housing, property management and care group, is introducing a further 200 elderly tenants in mainstream homes to the Housing Proactive service.
The system involves older tenants engaging with a phone on a daily basis to pick up news and information. Tenants either press an OKEachDay button on their device before a time chosen by them or are called by a highly trained member of the Housing Proactive team. If there's still no contact, family or emergency contacts are notified.
Providing daily contact with tenants in this way gives individuals more flexibility in how they engage with their housing service, confirms health and safety and helps to improve customer care.
GHA tenant John Govan (80), who lives in Lambhill, said: "It makes me feel much more secure. I've found it very easy. You just press the button in the morning to let them know everything is okay, and if you don't press it, they ring you.
"I can't see my family at the moment because of the virus, so they worry less knowing I've that extra bit of security. It's a great comfort."
The service has been extended to an additional 100 GHA, Cube and Loretto Housing tenants in Glasgow and 100 more Wheatley tenants of Dumfries and Galloway Housing Partnership, Edinburgh's Dunedin Canmore and West Lothian Housing Partnership. All of the mainstream tenants have been identified as particularly vulnerable by their housing officer during the coronavirus pandemic and will receive the service for six months.
Wheatley's Group Director of Housing and Care, Olga Clayton, said: "We're doing all we can to support vulnerable tenants during the pandemic. This is a good example of how older tenants, often cut off from family and friends, are receiving extra support and reassurance."
She added: "On a more general basis, this innovative service is helping older tenants live independently for longer in their homes. It's backed up by regular phone contact from housing officers currently working from home under government instructions.
"Ok Each Day is a tried-and-trusted service and one we've operated successfully in our Livingwell sites for older mainstream tenants in Glasgow over the past two years."
The Housing Proactive system is used also to remind tenants of everything from hospital appointments to birthdays and keeps them up to date on things like interruptions to utility supplies and information about local activities. They can also use it to call Wheatley's virtual Customer Service Centre to book essential and emergency repairs.
"Our housing officers are in regular contact with their customers," said Olga. "This system is going one step further to tackle social isolation and promotes wellbeing during these difficult times."
Benjamin Lambert, Head of Client Relations, said: "It's brilliant to work with such a forward-thinking organisation as Wheatley and form part of their award-winning Livingwell service. We initially started working with Wheatley early 2018 and it's great to expand the service with them to help even more of their older tenants stay connected and informed during the coronavirus outbreak.

"As many of the Livingwell team are now working remotely Additionally, we are aware that for tenants required to shield, the option to speak to a member of our team on a daily basis can significantly help - both to keep in touch with their housing provider, and also reduce social isolation."
Thursday, June 04, 2020