Ensemble Blog 4: creating music during lockdown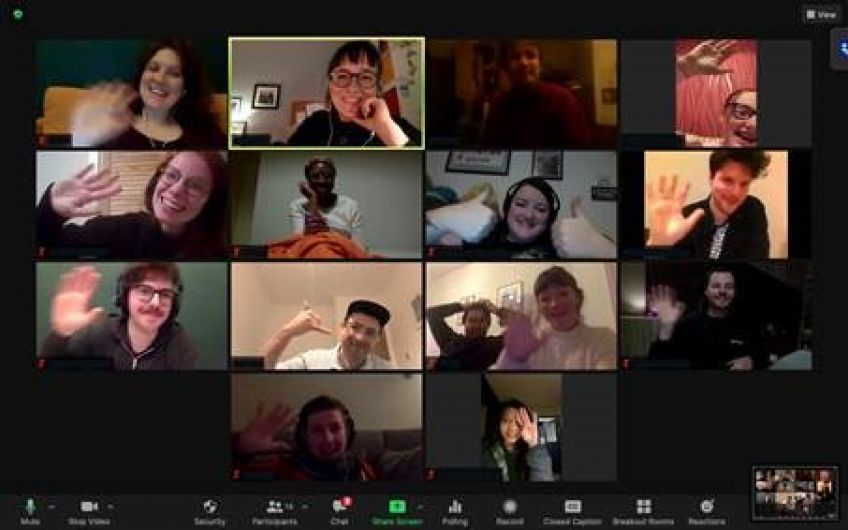 By Shobhita, Ensemble's Young Music Reporter.
Lockdown, Lockdown, Lockdown! Everyone has been talking about it. It's been more than a year since the advent of the novel coronavirus, and people are starting to forget what life was like before the endless lockdowns and social distancing. It's fair to say that each person has had a unique experience throughout this time. I also think there has never been a time in recent history when so many people have had such a shared experience. The pandemic has been something of a leveller as everyone's lives ground to a halt and people scrapped their plans. For some, there have also been positives to take away from the pandemic – more time with family or a chance to pause and reflect on life.

So, how has Ensemble coped with these troubling times? At the start of 'coronageddon', there was a total reshuffle, as you would expect. The songwriting sessions are now being done in small groups via Zoom. We have also added monthly Zoom sessions for the entire Ensemble family to meet up and share songs, ideas and catch up with what everyone's been doing. I cannot overstate how important it is to have a network of people to talk to in this period of isolation.
One of our young people Ruairidh called Ensemble, "A beacon in the dark," and that is a sentiment all the young people and musicians share. "Even when it seemed most black", he continues, "there were these evenings, and we could meet up and share songs."

But it's not just songs that are talked about. As young person, Jennifer explains: "It's how's your day went and stuff, you can talk about random things…it's like you're back to your wee friend group."
So many of our young people also noted how Ensemble has helped them with their anxiety and gave them more confidence. Young person Sara says, "It's definitely helped with my social anxiety, with being able to answer the phone. I think it's because I've been using Zoom lots with Ensemble. It's a very inviting kind of atmosphere even though it's on a Zoom call. It's given me the confidence to apply for a part-time job to be an Avon rep."

If you're someone who lives alone, it becomes essential to have these human connections wherever you can find them. Speaking from personal experience, my wall has been on the receiving end of a lot of my dramatic monologues, but it is not the greatest conversationalist. There's something innately rewarding about talking to a real human being with actual life experience and intelligence, which my wall, try as it may, cannot replicate.

Another thing crucial to surviving this pandemic, which our musicians and young people acutely honed in on, is music. At Ensemble, people have come to appreciate having a creative outlet during these times. It underscores how reliant we are on the arts in times of stress, making sense of difficult experiences or even understanding ourselves. As musician Jamie Scott mentions,

"So much of lockdown life is Zoom, but it has been so fun to reconnect with everyone, and when people share songs and stuff they've been working on, it's super inspiring. Doing my collaboration with Sara and Clare McBrien has been good, to write something different. Whenever I write with Ensemble, it challenges my creative practice and gets me to do something new."

Throughout lockdown, musicians and young people were the most excited when talking about their music and how it's given them comfort during the pandemic. "It has been really, really good; it's given me something actually to be proud of and focus on during all this. My new song means everything to me," says young person Megan. I especially enjoyed hearing how the young people and musicians collaborated, especially when it was with someone they hadn't worked with before. There was so much love and warmth in these conversations.

So, what does making a song together over Zoom look like? "It's hard sometimes! Zoom is a weird and awkward format," says musician Lucy. "But there are some pros - like it's really easy to share our screens and audio, so we can do things like watching our favourite music videos together, or building up song ideas. And we've had a good laugh with the filters as well!" And while it's not the same as sharing the same physical space, generally, folk have found a way to make the best of this format. Musician Clare mentioned, "I think the individual writing has somehow felt more intimate. Because there isn't background noise of other people making their tunes…there is the opportunity for creative conversations to happen and to get to know other people better."

Another positive of lockdown has been that it has allowed a lot of time for reflective thinking. "We live in a world where everything is so fast-paced, so I think that being forced to slow down and live a bit more in the present is one positive coming out of lockdown," says Marie, a musician at Ensemble.

Lockdown has also been a great time to learn new skills. Within Ensemble itself, folks have picked up new languages, done more yoga, learnt about mixing and production as well as home- recording and picked up some sewing skills.
I asked everyone at Ensemble if there was an imaginary time capsule to reflect the past lockdown, what they would put in it? People added things like: an MP3 player with individual songs as well as songs written with others, a coffee pot, a board game, a mask, a photo of a new flat when it was first empty, a copy of Red Dead Redemption 2, a clock or calendar to represent the amount of time lost and gained, and the good times spent with friends and family.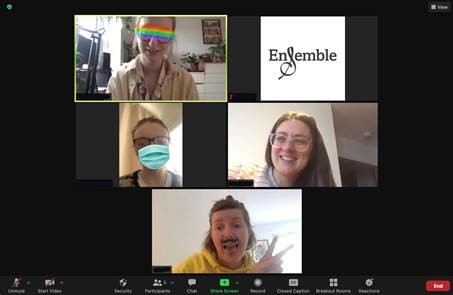 Finally, every experience provides a new learning opportunity. So here are some pearls of wisdom from the Ensemble family:
"Slow down and just try to live in the moment."
"It's going to take longer than you think. Make the most of every sunny day. Creative sparks will come back."
"Buy stocks on Zoom!"
"Go out dancing once in a while and appreciate a packed cafe. It's a good thing that people want to be together."
"Everything changes. Focus on what makes you happy and makes you grow as a human being and creative."
"It's OK to sit on the couch and do nothing. Rest is important."
"Go easy on yourself but try and keep learning new things even when you don't feel like it."

While things like face masks and hand sanitiser just become the flotsam and jetsam of 2020, I hope that the lessons we have learnt will stay with us for a long time ahead.
Thursday, July 15, 2021