Annie the alpaca helps Livingwell service celebrate its fifth anniversary
Tenants at a development for people aged 55 and over in Glasgow celebrated five years of support services with a very special party guest – Annie the alpaca.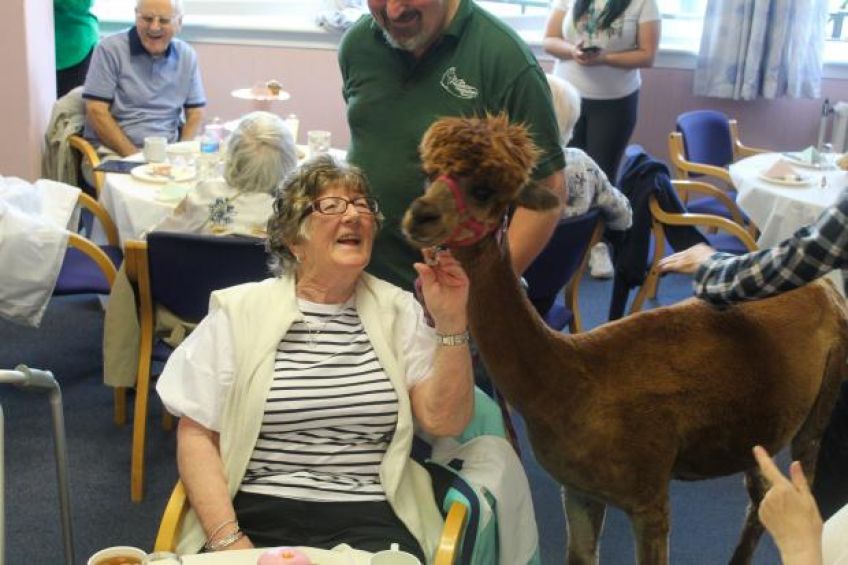 Livingwell, run by Wheatley Care which is part of Wheatley Group, has been supporting people over the age of 55 to live independently at home for five years and, to mark the milestone, held parties across the city.
One of these events was held at Livingwell's service at Brockburn Terrace in Pollok.
Residents and staff enjoyed food, music and dancing, and had the opportunity to meet and pet Annie the alpaca.
Research has shown animal assisted therapy can improve mood, lower blood pressure and increase physical activity.
Susan O'Neill, aged 61, said: "I had a wonderful time at the party. Annie the alpaca was so lovely and friendly, and I really enjoyed meeting her."
Tenants at Livingwell had previously received a visit from miniature Shetland ponies from Therapy Ponies Scotland. The alpacas from The Alpaca Trekking Centre are well socialised, trained to interact with people, and to be gentle around people with reduced mobility or additional needs.
Laura Pluck, Group Director of Communities at Wheatley Group, said: "We were delighted to celebrate the fifth anniversary of Livingwell with such a fun and memorable event. The alpaca was a real hit with our customers, and it was great to see them all enjoying themselves.
"We are very proud of the Livingwell service and how it has improved the lives of those who are supported in their own homes. Not only has this service allowed people to continue to live independently, but it has also helped tackle social isolation through the diverse range of activities designed by tenants and delivered by staff and partners."
Livingwell holds weekly classes that promote active, healthy lives, and are designed by the tenants. This includes film nights, silent discos, lunches, dances, theatre performances and musical shows.
First launched in 2018 by Wheatley Group, there are now 32 Livingwell sites in Glasgow and one in Livingston, providing support to over 1000 residents.
Wednesday, August 23, 2023