Loretto Care on song with the Ensemble
Loretto Care's music project 'The Ensemble' wowed judges at the prestigious Scottish Social Services Awards (SSSA).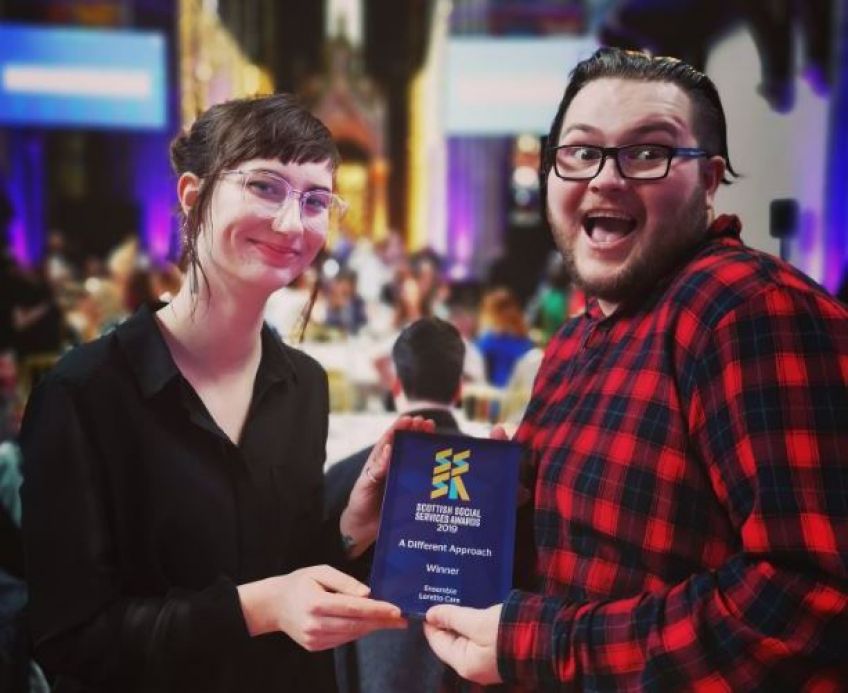 The Ensemble scooped the 'Taking a Different Approach' award for working with young people and volunteer musicians to write and record original songs.
The SSSA recognises third-sector, health organisations and local authorities which make a difference to people's lives.
The awards were held in Edinburgh on 5 June and were hosted by Scotland's Minister for Children and Young People, Maree Todd.
The MSP said: "It's been wonderful to see the vital and life-changing work being carried out by so many impressive people and initiatives. All the finalists and social service workers should be applauded for their contribution."
Songs produced through the Ensemble have won plaudits in the music world, with BBC Scotland's Roddy Hart giving airtime to one of the new songs.
'Battlefield' was written by Andrew Sinclair, who was supported by Loretto Care's homelessness service in Stirling and has since moved on to a home of his own.
Andrew was at the awards ceremony to help pick up the prize.
Alan Ross and James Donnelly, from the Tenancy Support Service, were also shortlisted in the SSSA 'Living the Codes' category for the short-term support given to customers who are vulnerable, at risk or in crisis.
Alan and James were recognised for their outstanding support for a tenant at risk of losing his home due to money and drug problems.
Don't miss out on your chance to hear the songs from the Ensemble. A free concert showcasing the music created by the Ensemble takes place in Glasgow on June 16.
You can find out more and reserve your free ticket here.
Pictured above are Andrew Sinclair with volunteer musician Louise McCraw.
Tuesday, June 11, 2019