Wheatley launches graduate programme for housing leaders of the future
Wheatley Group is on the lookout for Scotland's brightest and best university leavers to join its graduate scheme.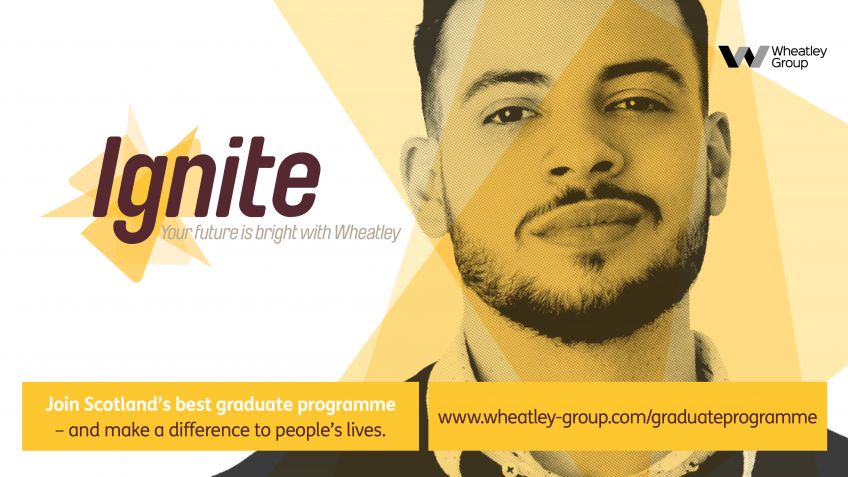 Scotland's leading housing, care and property-management group has launched its 2022 Ignite graduate programme.
Successful candidates will join the two-year programme and receive on-the-job training and development, opportunities for further study and qualifications, as well as mentoring support to help build a successful career in housing.
Trainees will work across Wheatley's social housing and property subsidiaries, which includes Wheatley Homes Glasgow, DGHP, Dunedin Canmore, Loretto and WLHP.
Since launching in 2019, Wheatley has recruited 65 graduates through its Ignite graduate scheme.
Lesley Wilkinson, Wheatley Director of People Services, said: "The Ignite graduate programme is a fantastic opportunity for young people to progress their careers in one of the country's most exciting and diverse sectors.
"The programme continues to go from strength to strength with the young people already on the scheme making a real and lasting impact in our communities across Scotland."
Nadine Burley joined the programme in 2019 after studying social policy and psychology. She is now a housing officer with Wheatley Homes Glasgow, based in the southside of the city. Since joining, she has completed both a post-grad and a masters in Housing Studies.
Nadine, 25, said: "Ignite has been brilliant. It's been a perfect blend of learning and getting the day-to-day experience about the role of a housing officer.
"Wheatley is always changing, new opportunities arise, and you are learning every day. If you want a career that makes a difference, this is the right place for you."
Applicants have until 5pm on 22 July 2022 to apply to join the programme.
Find out more about the Wheatley Ignite programme – and how to apply – at www.wheatley-group.com/graduateprogramme
Wednesday, July 06, 2022