Learning is music to the ears
Writing songs, practising mindfulness and shadowing the boss are all in a day's work for a group of housing and care staff.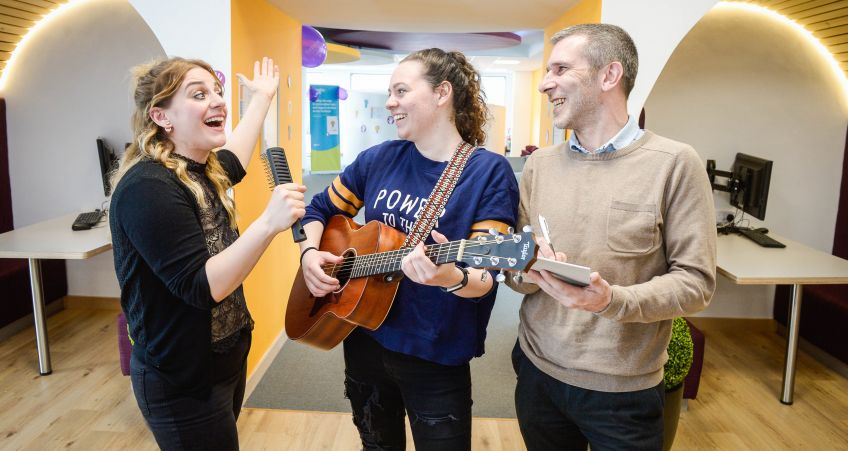 Around 40 people from Loretto Housing and Loretto Care, both part of Wheatley Group, have taken part in Learning at Work Week, a national campaign run by the Campaign for Learning.
Loretto organised a series of workshops, online learning activities and opportunities to shadow senior managers throughout the week. The sessions included song-writing, using drama to explore issues, mindfulness, reducing stress and a question and answer with Head of Care Martin Glackin.
Housing officers, administration officers, care assistants and managers from both Loretto Housing and Loretto Care took part.
Training officer Zofia Piotrowska said: "We're really committed at Loretto to helping people learn and develop in their jobs, and in their lives.
"Learning at Work Week was a good opportunity to introduce staff to different kinds of learning and to show them learning isn't always about your job. Skills, abilities and interests can be used positively in many ways.
"The feedback from staff has been great and they are already asking for more sessions. We hope people will be encouraged to take ownership of their professional and personal development as a result."
The workshops were held at the Wheatley Academy in Loretto's Glasgow base in the Gorbals. Loretto Housing has 1200 affordable homes in the central belt and Loretto Care provides care and support to 2200 people every week across Scotland.
Learning at Work Week is co-ordinated by the campaign for Learning and supported nationally by Pearson. Go to www.learningatworkweek.com
Pictured: Loretto employees Fraser Scott and Sarah Heatlie with musician Rebecca Herd (centre).
Friday, May 19, 2017