New garden transforms community hub
A community garden is coming up roses, thanks to the efforts of a team of volunteers.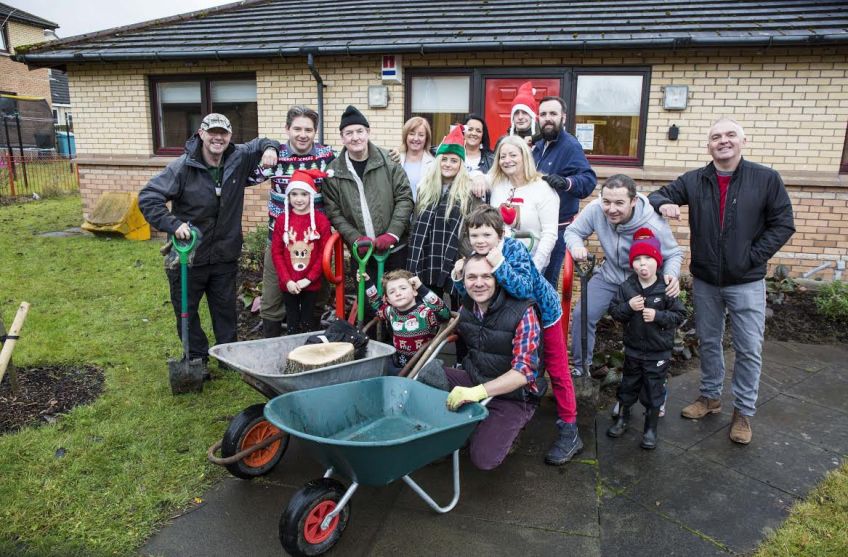 Over the past six months, a group of gardeners have come together to transform a rugged patch of land into a thriving outdoor haven.
And the garden, at Loretto Care's Craigneuk Community Hub in Wishaw, North Lanarkshire, hosted a Christmas celebration on the final planting day of the year.
The hub provides personalised housing support and care at home services to adults and older people throughout North Lanarkshire who have support needs.
A team of volunteers who use the service, staff, and members of the community came together on Saturday (December 10) to add the final hedgerows, and construct a 'bug hotel' made of logs.
They also enjoyed mince pies, hot chocolate and carols to celebrate months of hard work.
Over the past six months, Loretto Care, which is part of Wheatley Group, Scotland's leading housing, care and property management organisation, have hosted volunteer days in the garden, put in beehives, cleared weeds, and planted species of flowers and plants that are particularly attractive to bees.
The transformation was made possible thanks to a £4000 grant from Grow Wild, a campaign for people to plant more wild flowers, which is supported by the Big Lottery Fund.
The garden has given volunteers, including the people Loretto Care work for, the chance to work with the community and staff to learn new skills, share expertise, and make friends.
Manager Kate Keltie said: "The garden has broken down barriers between different ages and communities. It doesn't matter what your background is, once you get your wellies on and get outside, we are all the same".
Volunteer Campbell Moore, who uses the Craigneuk service, said the garden had given him the opportunity to try new things, meet new people and be more active.
He said: "I enjoyed getting out in the fresh air and using skills I hadn't used for years to transform a bare space into something that will be around for years to come".
Claire Bennett, Grow Wild Scotland Partnership Manager said: "This new wild space perfectly demonstrates what Grow Wild is about, creating vibrant and quality living environments for people's health and wellbeing and inviting wildlife back into our urban spaces".
Graham McLennan, Care Business Manager at Loretto Care, said: "The garden is an opportunity for volunteering and team work for people we work for, tenants, colleagues and members of the community. We can't wait to see it in the spring."
Pictured: (back, left to right) Volunteers Jackie Gilliland, Graham McLennan, Victoria McLennan, Campbell Moore, Sue Johnson, Alyx Mitchell, Karen Pettigrew, Kate Keltie, Conor Anderson, Alistair McCue, Joe Hayes, Aaron Hayes and Martin Glackin join (front, left to right) Max McLennan, Matthew Benians and Sam Benians.
Thursday, December 15, 2016