Volunteering is a blooming hit for Willie
At Loretto Care, we take volunteering really seriously.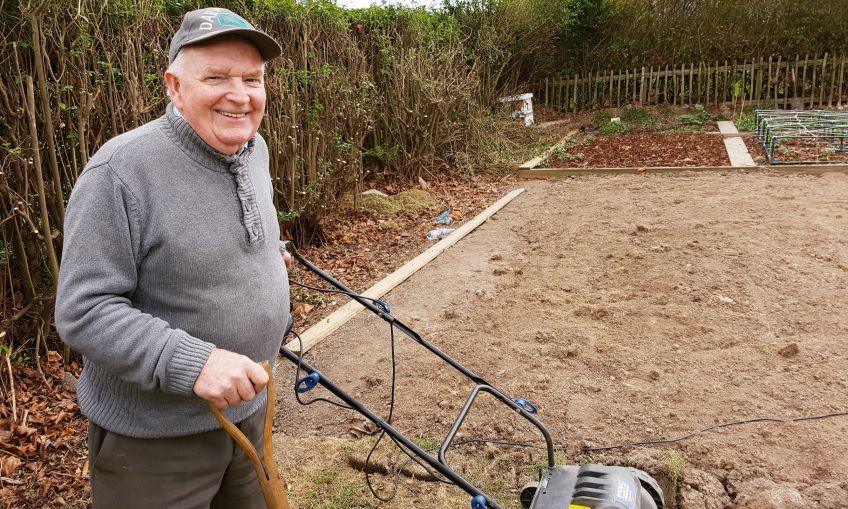 That's in part because people coming together to work on projects that make a difference is fantastic for communities, and in part because a meaningful opportunity can really transform the lives of the people we work for.
William Coyle is an 83-year-old gardening guru who gives up his time to share a lifetime of skills and knowledge with others in our community garden in Grangemouth.

Here is William's story in his own words about why volunteering has given him a new lease of life.
William's story:
When you retire and you get up at sunrise, you need to have a purpose. You read the paper, maybe get your washing done and that, but once that's done, you need a purpose after that. After you read the paper what you going to do? You can't just do the washing again.

I was looking for things to do, and my daughter said to go down to the CVS (Council for the Voluntary Sector) in Falkirk and talk to them. They put me on to a few places, and the garden was the place I came.

When I first came, I spent about half an hour meeting the people here and then had a look round the garden.

This place is fantastic. It's amazing what happens here – the people and the things that are going on.

Do I enjoy doing my work here? I can't keep away from the place so that answers it.

I've done many jobs and different things. I have always worked. I like to work with people and I was a lollipop man for 16 years too.

I've been doing gardening for a long time, and I also do the odd gardening job for people round and about.

When I came here I saw what needed to get done and got stuck in. When I see something that needs done, I need to get on and do it.

There was a big hedge at the back, which I cut back. We've been digging a vegetable patch and it's the best of soil in the garden, we will plant potatoes in that. When you do a little bit, you see the potential and want to keep going and do that wee bit more.

It is good for me to meet people, get involved and share what I know. Am I enjoying it? Oh yes, it's fantastic.